Restoration of Your Property – What to Expect When You Call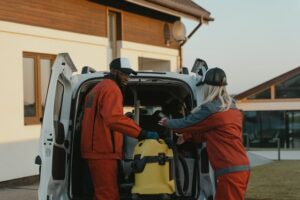 Indeed, even the thought of imagining your home on fire or getting damaged by a disaster can give you goosebumps and shake you up. However, things happen even when you don't want them to. If a disaster strikes your property, it is advisable to stay calm and contact 911 Restoration of Northern Michigan. We have the experience, expertise, and industrial-grade equipment. We can help you with the restoration of your property. Hence, whether you want assistance with home restoration after fire or water damage, you know who to call.
At 911 Restoration of Northern Michigan, we have helped numerous homeowners resume living in their homes. We can help you too. So, when you choose our company for the restoration of your property, here's what you can expect from our home restoration experts:
Immediate Response and Peace of Mind
As your home is one of the most expensive investments you're likely to make in your lifetime, it is not easy to watch your property get damaged and destroyed by water or fire. In such a situation, you will panic, stress, and become anxious. All these emotions are natural, but it is important to stay calm and not get overwhelmed.
To help you stay calm and collected in this situation, we make sure that our team is available at your disposal round the clock. Even if you call us in the dead of night, expect us to answer your call. We will be at your service in approximately 45 minutes or sometimes even less.
Unlike others, 911 Restoration of North Michigan is available to assist you any time you want. This is because we want to give you immediate peace of mind that your property is now in good hands and there is nothing to worry about.
Inspection Followed By Pretesting
Once our IICRC certified technicians reach your premises, we will inspect your property comprehensively and determine the extent of damages. We will determine the underlying causes and the best solutions and measures that we need to take for home damage restoration.
Disasters like urban flooding, fires, and tornadoes often result in various types of damages. Hence, it is best to inspect the property in detail to ensure all damages are addressed and nothing is missed.
Our certified experts will check your entire property. We will note down all issues, structural damages, potential repairs; and even determine if the property is safe to use or not.
Another crucial reason for visual inspection is that it helps our team determine the scope of property cleaning needed. Based on the inspection results, our experts can discuss your restoration and repair plan.
Moreover, in case home restoration after fire damage is needed, our experts will also test the soot to identify the type of smoke damage. Cleaning measures will then be decided on the information collected during the inspection and soot testing.
Steps to Prevent Further Damages
One of the best ways to handle a home restoration job is to prevent further risk and damages. Hence, our team first focuses on preventing further damage to your property. Here's how we go about it:
Board-up for Temporary Protection
In case of fire damage, you can expect our team to efficiently board up. This is an essential step because of two reasons. Holes in ceilings, walls, and floors can result in additional damages to your property.
Besides this, they can also expose your home to the risk of burglary and theft. Therefore, to avoid further damage and loss, we use board-up and tarps. This provides temporary protection to your home and belongings while the process of home restoration after the fire is underway.
Water Removal and Extraction
In case of water damage, we focus on water removal and extraction. This step is a must especially, in case of heavy flooding. Our team comes equipped with powerful vacuums and pumps that can remove hundreds and thousands of gallons of water in the fastest possible time. We remove and extract standing water immediately to prevent structural damage and minimize the risk of mold growth.
Clean and Sanitize
Whether your home has suffered from water or fire damage, this step is a must. We use air purifiers, scrubbers, and even fogging equipment to remove odor from your home caused by moisture, stagnant water, or smoke lingering in the air and throughout your home.
Smoke after fire damage can permeate surfaces and walls, leaving behind an odor that can negatively affect your health. Our professionals will remove odor, and neutralize the smell, making the quality of air inside your home breathable, fresh, and safe. Similarly, we will also use dehumidifiers and air movers to draw moisture from the house in the event of water damage, along with antimicrobial treatments to sanitize your space, leaving no particle or residue behind.
In addition to this, the cleanup part of the home restoration process also includes the removal of dust and soot from surfaces of the house. Our team will use various cleaning tools and techniques to clean your property that may be stained and charred after fire damage. Being home restoration experts, we'll do whatever we can to get everything spotlessly clean as quickly as possible.
Repairs and Restoration
With us, you can expect complete restoration services. From clean-up to smoke, water removal, and major tasks like roof repairs, we assist you with them all. We make sure that your home is cleaner and structurally stronger than ever, so you can resume living in it comfortably. Contact us today.