How to Safely Operate A BBQ Grill on your Lawn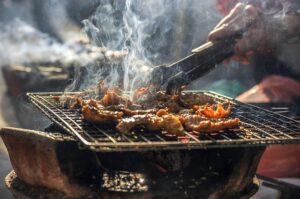 Outdoor grilling is an essential part of the summer season. As temperatures rise, you may be excited to bring your BBQ grill out for your lunches and brunches. Unfortunately, statistics show that outdoor BBQ grills cause approximately 8700 fires in the USA every year.
In light of this, you need to be very careful as to how to safely operate a BBQ grill on your lawn without the risk of accidents or fire damage.
Place Your Grill in a Safe Location
First of all, you should choose a safe location to operate the BBQ grill on your lawn. We all know grilling outside is safer than grilling inside, but you still need to choose the right spot. Make sure the BBQ grill is at least 10 feet away from the entrance of the house.
Every lawn likely has trees and plants. But it is not a smart idea to place the BBQ grill near these. Placing the grill under a tree, no matter how tall, can incur a risk of fire, which can be very hard to contain then. The grill should also be kept away from lawn decorations that might catch fire. Instead, choose a flat location on the lawn with no trees or plants in very close proximity.
Clean Your BBQ Grill Before Use
You might be regularly using your BBQ grill, especially during summers. Therefore, it is very important that you thoroughly clean the grill before use. The grill will sustain flammable grease and other buildups that may ignite a fire or add fuel to the fire. This fire may then quickly spread in the lawn due to wind.
To do this, add household vinegar to a spray bottle. Spray this mixture on the grease on the grill and use aluminum foil to act as a bristle brush to wipe away all the grease and grime that could spark a fire while you're grilling.
 Don't Leave the Grill Unattended
Another crucial mistake that people make while operating grills is leaving them unattended. They think that the lawn is an open space, so they're safe. However, this is not true and you should never leave the BBQ grill unattended. Wind outside can lead the fire towards a tree or branch, which can then quickly catch fire.
You should keep kids and pets away from the outdoor grill under your careful supervision. A child's clothes or the pet's fur may catch fire and seriously injure themselves. Stay around to finish the cooking as long as the grill is in use.
Wear the Right Gear
You need to make sure you're wearing the right gear when you're operating a BBQ grill outside in the lawn. Long or bell sleeves or certain flammable materials can easily catch fire from the grill and injure you and the surroundings. You should also ensure your hair is tied up if you're grilling, as hair can also catch fire.
You can easily find the appropriate gear for BBQs that will not interfere with the grill and potentially catch fire. Simply refrain from wearing very loose clothes. You might even consider rolling up your sleeves and removing any scarf in the neck before you start grilling.
Make Preparations to Put Out the Fire
Whenever you're operating a BBQ grill outside, you should make the necessary preparations in case you encounter a fire. When you're grilling on the lawn, fire can spread very quickly due to wind and tree branches that are susceptible to catching fire.  This is why you should always have a fire extinguisher nearby in the event that a fire does occur and even know how to use it.
You should also have a spray bottle with water to suppress any flames while you are grilling. Either way, if you do encounter a fire, you should immediately call 911 and a fire damage restoration company.
Don't Overload the Grill
When we are cooking for a lot of guests, it's easy to overload the grill to get the job done faster. However, this is not always a smart option as it incurs the risk of fire outdoors. When a lot of greasy meats are piled up together, there is a risk of a greasy flare-up. To avoid this, use the space that is available on the grill.
Instead, cook smaller portions of meat at a time, as this will prevent the risk of fire. While it may take a little longer, it will improve the safety of guests and your house.
Turn Off Your Grill
While this may seem obvious, people tend to forget to turn the grill off in a hurry to serve food to guests at a BBQ. If you're using a charcoal grill, you can't just switch it off with the flip of a button. However, shutting everything down will save you from the serious risk of fire.
While this may take a few extra minutes, it will save you from serious fire damage that can injure guests and also damage your property.
Fire Damage Restoration
If there is a fire during your BBQ grilling sessions, you should get in touch with 911 Restoration of Northern Michigan to contain the fire in a timely manner. This will save you and your property from extensive fire and smoke damage that can be overwhelming to deal with. They will offer you expert fire and smoke damage restoration services.