How Do Wildfires Start (& How to Protect Your Home Against Wildfires)?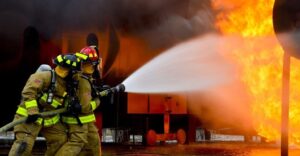 Did you know? The local Department of Natural Resources has put out over 200 wildfires since the start of 2021. These statistics are why learning how to protect your home against wildfire has become crucial now more than ever.
Hazy air and ferocious flames continue to wreak havoc in the state, with more than 2000 acres of wildland burned. Incidentally, these fires haven't just affected open spaces and the wildland. Strong winds can carry red embers thousands of miles, destroying residential areas that come in its pathway.
Therefore, wildfire safety tips and preparedness aren't restricted to outdoor activities. We advise homeowners to take necessary actions to save lives and prevent costly property repairs caused by smoke and fire damage at home.
This article discusses the main causes of wildfire and ways to harden your home against the heat.
The Ignition Point: How Do Wildfires Start?
Most natural causes include the presence of fuel (trees and plants in vegetative spaces), oxygen (present in the air), and heat (caused by high temperatures and dry weather) to ignite. Global changes have led to an increase in the intensity of summer heat and unfavorable environmental conditions in North Michigan. Due to which wildfires have become a more common threat to residential areas than it was a few years ago.
Besides natural causes, wildfires might also start because of human negligence.
Causes include:
Unattended campfires, BBQ grills, and spark-creating outdoor activities
Lit cigarettes discarded near vegetation
Fireworks near combustible shrubs and trees
Improper supervision of burning garbage
As fall arrives, dry leaves and campfire activities can create the perfect premises for another wildfire season.  Therefore, homeowners should learn how to harden their homes to avert severe fire damage.
Wildfire Safety Tips: How to Protect Your Home Against Wildfire?
Wildfire can lead to severe property loss when wind-blown embers, radiant heat, and nearby flames come into contact with your home.  You can minimize fire risks by altering your landscape design and reconstructing specific exterior areas.
Here are the changes that can increase fire resistance at your home:
#1. Maintain a Risk-Free Yard
The Home Ignition Zone covers the first hundred feet surrounding your residential property. The National Fire Protection Association divides this space into immediate, intermediate, and extended zones.  You should reduce combustible items in these areas to mitigate the risk of wildfires spreading on your premises.
Immediate zone (0-5 feet) poses the most threat to your property. Setting fireproof barriers in this perimeter can prevent the embers and flames from coming into contact with your house.
Here's what you can do to protect your home against wildfire:
Get rid of mulch, and pine needles from this area as their combustible composition make them a natural accelerant for fires
Replace flammable plants with hardscape features (like stone or masonry) or flame-proof plants (like sage, red monkeyflower, French Lavender, and ornamental strawberry
Clear spaces under your deck and patios routinely to rake fallen leaves, pines, and debris to prevent them from catching fire.
Keep the lawn pruned and maintained to reduce reasons for ignition when an ember does blow by your premises.
Besides this, you can use non-flammable material (like brick, fiber cement, stucco, and steel) for your outdoor fencing.
#2. Harden Your Exteriors
The roof gutters act as a defense mechanism that shields your house from harsh environmental elements. They are also the most likely to sustain damages when a wildfire threatens them.  You can minimize risks by taking preventive measures to protect your home against wildfire.
Likewise, you need to identify fire hazards within the exterior structural design of your property. These areas include decks, patios, vents, gutters, and windows. You can use this knowledge to reconstruct your outdoor space to ensure it's fire-resistant and damage-proof.
Here are a few steps you can take to minimize fire risks:
Roof Replacement: Residential roofs made from wood shingles or panels pose a higher threat than other roofing materials in the event of a wildfire. Replace them with non-combustible items like clay, metal, or tiles. The same rule applies to wall sidings made from flammable materials.
Roof Maintenance: Schedule routine roof and gutter maintenance activities to clear away flammable debris (like fallen branches, twigs, mulch, dried leaves)
Cover Vents: Shield vents (like chimneys, stovepipe lines) by installing 16-inch to 1/8-inch metal mesh to limit heat/fire exposure inside the house.
Protect Gutters and Eaves: Invest in a non-combustible filer to keep your gutter fuel-proof and clutter-free during wildfires. Additionally, you can create an ignition-proof area by boxing eves and soffits with fireproof covering.
Redesign Windows: Protect your home from wildfire by installing tempered glass windows with dual panes to minimize the chances of breakage caused by heat radiation and air pressure. Decrease window sizes and the number of vegetation-facing windows to maximize resistance against flames.
These small renovations can play a significant role in limit property loss in the event of a wildfire.
#3. Make Way for the Emergency Response Teams
Homeowners should consider access points and fire mitigation strategies from an emergency respondent's perspective. Survey your yard to look for signs of obstruction that can cause delays or hindrances. Here are some things to consider:
Ensure that the name and address of your house are visible from the road. Make a note of nearby landmarks to guide the firefighters properly if required.
Invest in multiple long hoses that can reach different parts of your property during a fire emergency. You can use the water supply limit danger before the official respondents arrive.
Prepare for wildfire emergencies by keeping tools, such as shovel, rake, bucket, hoses, and a fire extinguisher, at hand to put out small fires ignited by wind-blown embers.
Install gates that open inward and have sufficient space between them to accommodate large emergency response vehicles (i.e., fire trucks and ambulances) and other equipment.
Remove (or trim) overhanging trees and shrubs for large vehicles that might need a clear entryway to reach the source of the fire.
Lastly, ensure that your property adheres to state laws and local building codes in terms of accessibility for emergency response teams.
The Final Stand: 911 Restoration of Northern Michigan
The wildfire safety tips discussed above ensures that your residential property manages to stay intact in the aftermath of a wildfire. Yet, incidents like these can take unexpected turns and create distress for homeowners involved. It's when our smoke and fire damage restoration experts come to the rescue.
Our IICRC-certified team offers disaster recovery services in the event of a wildfire. We provide support against soot damage, water damage caused by firefighting activities, mold remediation, and other types of property loss associated with fire incidents. You can trust our trained team and personalized mitigation plans to resolve individual challenges you may experience during the recovery phase.
Your home shall return to pre-existing conditions with minimum signs of damage or health risks with us by your side.
Dealing with a wildfire emergency? Call 231-227-2330 to contact 911 Restoration of Northern Michigan to protect your home against wildfire damage.