Sewage Backup and Cleanup Northern Michigan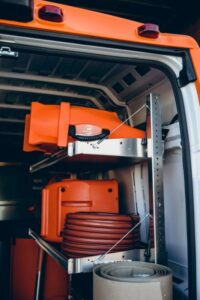 Call 911 Restoration of Northern Michigan for 24-hour sewage cleanup. We guarantee an arrival time of 45 minutes or less for all property owners in our service area.
We offer this level of urgency because sewage water damage can be devastating to homes and businesses alike. Like all forms of water damage in Grand Blanc, a sewage backup can cause permanent damage such as structural weakness and mold contamination. A sewage water backup also introduces dangerous microorganisms to your property.
That's why we make sure every member of our IICRC certified crew is trained to provide comprehensive service. Our sewage cleanup technicians cover everything from sewage water cleanup to sanitization, repairs, and 911 mold restoration. We also serve all property types. Whether you own a home or a business, you can turn to 911 Restoration for full-service sewage restoration.
We believe offering compassionate care is just as important as providing skillful services. You quickly learn that our sewage backup technicians are open communicators and gladly listen to all your concerns. To truly put your mind at ease, we offer a free visual inspection (for property owners only). We work with all insurance providers and help you navigate the claim process, starting with our free insurance consultation.
911 Restoration is licensed, insured, bonded, and locally owned and operated. We are backed by the resources and support of a respected, nationwide company. Above all, we offer you a team that is fully invested in preserving the properties that make our local community beautiful. When we work with you, we're not just doing another job. We're caring for a neighbor in need.
For compassionate sewage water cleanup in Alpena, Cheboygan, Rogers City, and beyond, call 911 Restoration today.
Call Us for Fast Sewage Cleanup After a Toilet Flood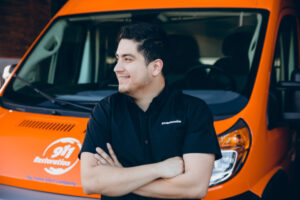 A sewage water backup is an emergency. If there is blackwater on your property, you deserve an urgent response. No one in the East Lansing area is faster than 911 Restoration of Northern Michigan. We are here for you day and night, 365 days a year. Our sewage water damage experts are on the scene within 45 minutes of your call, guaranteed.
We offer this immediate service because we are sensitive to the long-term damages a sewage backup may cause. The longer toilet water lingers on your property, the more it is absorbed into the structure of your home or business. Over time, this stored water leads to consequences such as buckling structures, rotting floorboards, and more. Even the concrete floor of your basement soaks up water. When that moisture returns to the surface, it becomes a breeding ground for mold.
Our sewage cleanup technicians can resolve all of these problems. However, our first goal is to prevent these types of sewage water damage in the first place. Avoiding these issues is the best way to spare you the stress and potential costs of further repairs and mold removal.
That's why our sewage water backup response team moves at top speed to extract the blackwater. They dry your space thoroughly using professional blowers. By the time our experts leave, you can enjoy a clean, fresh refuge once again.
If you've had a sewage backup in Alpena or the surrounding area, call our urgent sewage cleanup crew today.
The Most Comprehensive Sewage Cleanup in East Lansing
When it comes to sewage water cleanup, you need more than extraction. In fact, our mission at 911 Restoration is to provide property owners with a Fresh Start after any disaster. This means leaving you with a home or business that feels clean, strong, and brand new.
To accomplish this, our sewage water backup experts go beyond water removal and drying to make sure you aren't left with any damages. They conduct structural testing to check for weakness, rotting, or other forms of sewage water damage.
If our technicians discover any destruction to the surfaces or structure of your property, they take care of repairs. We know that a sewage water backup is a major interruption to your life. We want to make sure you're able to resolve the problem and move forward quickly. That's why we make sure our sewage water cleanup workers are equipped to take care of every issue. You won't have to juggle contractors. Our staff even conducts a mold inspection and handles mold remediation as needed.
Perhaps most importantly, we sanitize your property thoroughly to ensure you, your family, or your staff are safe after a sewage backup. Blackwater brings bacteria, viruses, and parasites into your home or business. Our expert disinfection crew eliminates those dangerous microorganisms to put your mind at ease.
At 911 Restoration of Northern Michigan, we work hard to offer solutions for the moment and reassurance for the future. Call now for the service you deserve.