Water Damage in Northern Michigan
911 Restoration of Northern Michigan
Our flood cleanup technicians are all too familiar with the high risk of 911 water damage experts in Northern Michigan and neighboring communities. Between winter snow and summer storms, local properties are constantly at odds with the climate.
That's why we make sure our water damage restoration crew is always ready to go. Call us at any time of the day or night. Our techs arrive in 45 minutes or less. These workers see to all your needs, including packing out services, emergency boarding up, leak detection, and flood cleanup.
Beyond water extraction, our professionals take great care to ensure your home or business is strong and clean again. They sanitize, inspect for mold, handle mold removal, and repair all damaged structures.
At 911 Restoration of Northern Michigan, we offer a Fresh Start with our comprehensive selection of property damage restoration services, including but not limited to:
Whether you're a Northern Michigan homeowner or business owner, 911 Restoration of Northern Michigan is your Fresh Start! We'll communicate with you throughout the entire process, help answer questions related to insurance, and restore your property to its pre-damaged condition. One of our IICRC-certified teams is dispatched within 45 minutes of your call! Contact us today, and one of our friendly representatives will assist you in finding the nearest Northern Michigan location.
Call us today for a Fresh Start after water damage in Indian River, Onaway, and throughout the surrounding area. Call us at 231-227-2330 and allow us to offer you a free visual inspection.
Service area map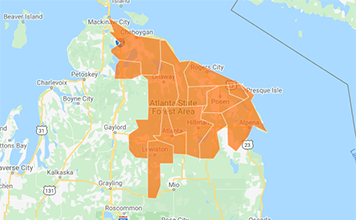 Water Damage Restoration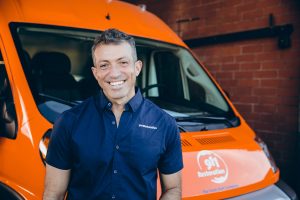 Whether you're dealing with water damage in Alpena or fire damage in Cheboygan, call 911 Restoration. Our IICRC certified staff is trained to handle every disaster, from pipe bursts to mold contamination. We service both residential and commercial properties in Northern Michigan.
For your peace of mind, we remain available to you 24 hours a day, 365 days a year. We guarantee an arrival time of 45 minutes or less, even if you call in the dead of night. Our expert technicians provide a Fresh Start with services ranging from water removal to complex structural repairs. Call us at 231-227-2330 and see how we can help.
Above all, we serve you with compassion. We understand the nightmare of seeing your greatest asset hit by a storm, sewage, fungus, or fire. Our staff knows your mind must be reeling, so they do all they can to provide the answers and solutions you need. We even offer a free visual inspection (for property owners only) and free insurance consultation. 911 Restoration is licensed, insured, bonded, and works with all insurance providers.
There is no disaster our team cannot handle. For immediate peace of mind, call 911 Restoration of Northern Michigan today.
Mold Removal
Don't make the mistake of putting off 911 mold restoration. If you suspect you have an infestation, call 911 Restoration right away for a thorough mold inspection.
Our certified mold removal experts inspect your home or business thoroughly for all signs of growth. They decontaminate your property using the safest methods available, doing their best to keep you safe from spores and harmful particles.
Our mold remediation crew even dehumidifies the structure of your property to prevent future growth. They repair all damaged structures and leave you with a property that feels brand new.
A fungal infestation is always an urgent problem. Fortunately, 911 Restoration of Northern Michigan is here to provide a Fresh Start. Call us now at 231-227-2330 for mold removal and water damage restoration in Northern Michigan.
Sanitization Services & Disinfection Solutions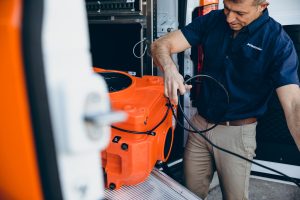 The burden of property sanitization may be higher than ever, but you're in good hands with 911 Restoration of Northern Michigan.
Our disinfection workers are highly trained and follow the most recent CDC and EPA protocols. At a time when sanitization standards are constantly changing, we ensure our staff is fully up-to-date. The better informed we are, the more equipped our staff is to help you find clear answers in the midst of a complicated pandemic.
We manage both residential and commercial disinfection. Our compassionate cleaning crew is sensitive to your unique needs, whether you need to maintain a safe home for your family or put your customers' minds at ease.
There is no reason to navigate this difficult time on your own. We are a community, and 911 Restoration is here for you. Call today for water damage, sanitization, and deep cleaning services in Northern Michigan.
Sewage Cleanup
If there's sewage on your property, don't waste another second. Call the sewage backup crew at 911 Restoration.
With 24/7 availability and a 45-minute arrival time, you rest easy knowing help will be at your door right away. Our sewage cleanup  workers are compassionate, fast, and thorough. They extract sewage promptly and inspect for damages to your structure. If they find a problem, they handle repairs personally. This includes a mold inspection and mold removal. You can also count on our team for thorough disinfection.
If you have sewage water damage in Alpena, Onaway, Lewiston, or beyond, call us today at 231-227-2330.
Fire Damage Restoration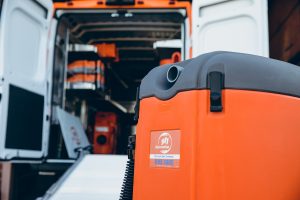 Fire and smoke damage can be overwhelming, but 911 Restoration is here to help you get through it quickly and completely.
Our compassionate fire damage Lansing MI technicians offer a truly Fresh Start. Their services cover every need imaginable, from odor and smoke removal to complete structural repairs. They even pack out and store your unharmed belongings and clean up after firehose flooding.
In addition to comprehensive fire damage restoration, our smoke cleanup staff provides all the answers you need in this uncommon crisis. We offer a free fire damage assessment and a free insurance consultation. Consider us your 24-hour fire information center.
You will get through this, especially with 911 Restoration of Northern Michigan on your side. Call us today for fire cleanup in Alpena, Cheboygan, and the surrounding cities.
Disaster Restoration
Whether it's a tornado, a fire, or a flood, some disasters are so complicated you don't know who to call. Rest assured that 911 Restoration has the solutions you need for even the most complex property nightmares.
Our IICRC certified crew has undergone extensive training to bring you a range of solutions. They handle everything from smoke contamination to roof destruction. No matter what type of property you own or what you have been through, our team has the expertise needed to make your property new again. They do it all with compassion and clear communication.
Take a deep breath and call 911 Restoration. We'll take it from here.
Commercial Restoration
Damaged commercial property is a high-stakes situation. You need a restoration contractor who can help you get back to business as soon as possible. And you deserve a clean-up and restoration company that can make your business clean and strong for long haul.
911 Restoration does all of the above. Our expert technicians treat your commercial property as if it were their own, responding to your call with urgency and meeting the highest standard of service. They're skilled in all disasters, including water damage, fire damage, and mold contamination. Our crew handles every aspect of the restoration process, from cleanup to repairs. When you call us, you don't have to bother with another contractor.
Don't settle for less than you deserve. Call the expert team at 911 Restoration today at 231-227-2330.