Fire & Smoke Damage Restoration in Northern Michigan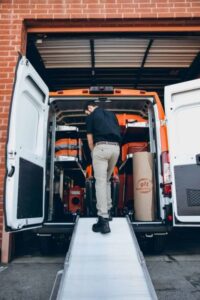 If you've had a property fire or a puffback, rest assured that your home or business will not feel contaminated forever. 911 Restoration of Northern Michigan is here to provide a Fresh Start. Our fire cleanup experts take care of everything from smoke removal to roof repair. They even handle Water Mitigation in Grand Junction MI for properties flooded by the fire department. By the time our crew is done, you have a home or business that feels cleaner and stronger than ever before.
Our team is here for you 24/7/365. We work hard to ensure you get all the answers you need for your fire cleanup and smoke restoration questions. Consider us your fire information center, offering everything from a free fire damage assessment (for property owners only) to a free insurance consultation. Our fire damage restoration experts even assist with your insurance paperwork.
911 Restoration of Northern Michigan is a locally owned and operated business. We provide residential and commercial property restoration, Rogers City, and the surrounding area. We are licensed, ensured, bonded, and IICRC certified. Our smoke restoration technicians are all highly trained and hold themselves to a high standard of service.
In addition to offering skillful fire and puffback cleanup, we strive to ensure you can find peace of mind during this difficult time. We know your property is more than a building to you. You've worked hard to make your home or business a true refuge. Our fire damage restoration staff understands this. You can count on them to treat your property as if it were their own.
Call 911 Restoration for compassionate fire cleanup, puffback cleanup, and smoke removal.
Fresh Start Fire Cleanup in East Lansing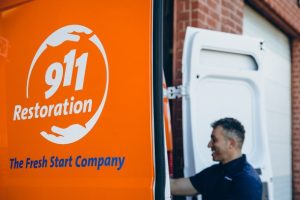 When customers call us for fire damage restoration or a puffback cleanup, we know they are enduring one of their darkest hours. Their well-loved property is now contaminated with smoke damage and foul odors. Be assured that with 911 Restoration on your side, you can turn today's disaster into a new beginning.
Our full-service fire cleanup and smoke restoration technicians take on your job with more than smoke cleanup in mind. They see the entire restoration process through themselves, doing whatever it takes to make your property new again. With so much already on your mind, we don't want you to have to juggle contractors, too.
Your dedicated fire damage restoration workers begin fire or puffback cleanup by communicating their exact strategy for recovery. In many cases, the team packs out and stores any items that are still unharmed. This ensures those belongings stay safe until smoke damage restoration is complete.
Then, our technicians use sodablasting to clean smoke damage from large surfaces. They also take care of smoke removal for individual objects such as furniture and dishes. All our smoke removal processes help eliminate odors by getting rid of the smoke and ash particles that carry smells. However, you may require additional odor removal services, such as sealing. Our puffback cleanup experts handle these procedures as well.
Once your space has been thoroughly cleaned, our fire damage restoration staff moves on to repairs. They are trained and equipped to handle all your needs, including drywall repair and roof repair. They also clean up after a firehose flood, inspect for mold removal in Lansing, and take care of mold remediation if needed.
As the Fresh Start company, we don't consider our work done until your home or business feels as clean and whole as the day you moved in. Call us today and look forward to a full recovery.
All Your Fire Damage Restoration Questions Answered
There is so much to think about when you've been through a fire or puffback. It can be difficult to find clarity and determine the right path forward.
At 911 Restoration of Northern Michigan, we are dedicated to helping you find all the answers you need. You can reach our fire and smoke damage experts at any hour of the day or night. We also offer a free fire damage assessment with no obligation.
During this assessment, a smoke restoration professional looks at your property and helps you set expectations for the recovery process. They explain what our team can do to restore your property. Then, we invite you to take advantage of our free insurance consultation.
911 Restoration works with all providers, and we're happy to help clarify your fire damage restoration coverage. Both fire cleanup and puffback cleanup can be complex and require multiple services. It may not be immediately clear to you which of these services your provider pays for. We find those answers for you, so you don't have to play phone tag with your insurance company. Our staff also assists with paperwork, including inventory and loss itemization. Finally, we file your claim for you and bill your provider directly so you don't have to deal with it.
You're not in this alone. For genuine relief from fire and smoke damage in Alpena, Cheboygan, or the neighboring cities, call 911 Restoration today.