Dealing with a Fallen Tree on Roof During a Windy Season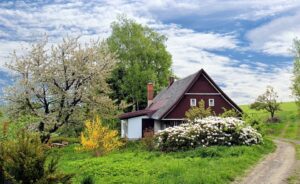 One of the most common occurrences during a windy season is the risk of falling trees on rooftops. Homes are especially vulnerable to falling trees in areas that are prone to storms and floods. Note that the chances of becoming a victim to falling trees are generally low, but with millions of people in Northern Michigan going about their daily lives, someone, somewhere will get hit.
And it's better to prepare well in advance of this threat than to formulate a rushed response after the fact.
Most people like to surround their homes with mature trees due to one reason – it makes for good optics. Trees also offer greenery and shade. With that said, some trees are stronger than others – and you won't know which tree is weak until you see it crashing down on your front lawn.
How to Deal with a Fallen Tree on Your Roof
The first thing is to make sure that all occupants in your home are safe, including pets. Then, follow these tips to get things restored.
Call 911 and Local Authorities
A fallen tree may take down any nearby power line – or at the very least, weaken it to the point where a collapse is imminent.
This can create a very serious risk of fire or electric shock that must be dealt by a professional. Signs of a downed power line is power outages in your house. You may also be able to see a downed power line near a fallen tree. It is possible for the downed power line to still continue to provide electricity, but it's still a risk and must be deactivated.
Call 911 and the utility company. Evacuate the building if you smell smoke. The utility company will send professionals to repair the power line. The law enforcement agency may stop traffic on the street for everyone's safety. Fire department technicians may be sent to ensure everyone is safe.
Time for Damage Control
Now that everything is in the clear, it's time to assess and repair any damage done to your house. A fallen tree could damage your roof, windows, and cause other problems.
The gas lines and plumbing pipes may have been damaged as well. As a precaution, you should turn the gas and water lines off until you're sure the lines aren't damaged.
Call your local 911 Restoration team to fix up your roof and any other damage to your home. This important step will prevent any further damage to your home and belongings. We recommend against any DIY tasks because you may hurt yourself – it's best to call water damage restoration specialists in Northern Michigan. Besides, some areas of the roof may be unstable for anyone to walk on.
Call the Insurance Agent
One of the first things you should do in the event of a fallen tree is to get in touch with your insurance agency to recover damages.
In most cases, a standard homeowners policy will cover the damage caused by a fallen tree if the cause is wind. Parts of the property that are covered include your home, fence, shed, and of course, the roof. If the tree falls on your car and crushes it beyond repair, your default auto policy probably will not cover the damages unless you also got comprehensive insurance.
You may be required to pay a deductible for the insurance company to cover your expenses. In most cases, if the tree fell on your house due to an 'act of nature' such as high winds and thunderstorms, your policy will cover the expense for repair, minus any deductible. Your policy can also cover a fallen tree that belongs to a neighbor if it's caused by an "Act of Nature'.
The homeowner's policy may be denied if the tree fell due to other reasons, such as attempting to cut it without consulting a professional.
What is Covered in Home Insurance Policies?
Most home insurance policies cover up to $500 for removal of fallen trees and about $1,000 for any losses resulting because of them. Some policies only apply if the tree has damaged a covered structure or is blocking the driveway. Other policies may apply regardless of whether there has been damage to surrounding property.
If the expenses offered by your insurance company fail to cover the cost of repairs, you can ask them to reevaluate your claim. During this process, you should submit bids from contactors to prove that repair costs are indeed higher than your insurer's estimates.
Keep Track of Expenses That Occur Due to the Damage
Expenses that are incurred for damage control may be covered by your insurance agency. So make sure to save your receipts if you hired a contractor for repairs.
If you have to stay at a hotel due to repairs at home, you may be reimbursed by your insurance company. Note that, you should call your insurance company to make sure these expenses are covered.
Obtain Accurate Documentation
Depending on where the tree fell on your house, you may be on the hook for expensive repairs. In order for your insurance company to reimburse you for damages, you'll have to properly document everything. Pull your camera out and take photos of the damage – including the outdoor and indoor area.
Try to take as many pictures as you can because they will be used as evidence for your insurance claim.
Who is Responsible for the Neighbor's Tree Falling and Causing Damage?
If your neighbor's tree falls on your roof and does damage, you'll have to exercise patience and not turn things sour. Try to get in touch with your insurance agency to see if they will cover the damages. In some cases, you and your neighbor may decide to split the cost for debris removal as an act of good faith.
Call your local 911 team for more information. We can provide the fastest damage restoration services in Northern Michigan.