Mold Removal in Rogers City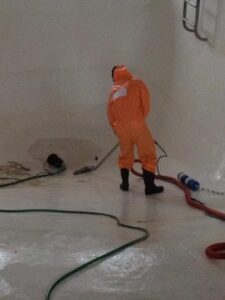 While buying a home or commercial property is an exciting time for many Rogers City residents, building ownership also comes with a lot of responsibility. Fortunately, 911 Restoration of Northern Michigan is in your corner when disaster strikes. From mold decontamination and water damage restoration to sewage backup and smoke cleanup, our team of experts will offer you a Fresh Start after a disaster.
We are available 24/7/365 to promptly respond to your needs. In fact, we'll be onsite within 45 minutes of your first phone call to our office. Whether you're located right down the street or across the county, 911 Restoration can quickly and efficiently help you.
Contact us today if you think you have a mold infestation in your building.
Indoor Flooding? You May Need Mold Removal
A basement flood can cause serious property damage. It doesn't matter if it was caused by a pipe burst, severe storm, or septic backup. From weakening your building's structural integrity to causing staining, there are a lot of downsides to water damage.
If you have water damage inside of your home, you may also have a mold infestation. Mold can start to grow within just 24 hours of the initial leak and swiftly spread throughout your property. Mold can show itself in many ways, including:
A Strong Odor

: If you notice a musty odor inside of your residential or commercial property, you may have mold. Many people have described mold smelling like rotting wood or wet socks.
Ugly Stains

: Do you have yellow, green, or black stains on your walls, ceiling, or floor? Do they appear slimy or fuzzy? You may have a mold problem.
Bad Allergy Symptoms

: When inhaled, mold spores can negatively impact your upper respiratory system, causing allergy and asthma symptoms. If you're sniffing or sneezing more than usual, you may have a mold outbreak in your building.
If you notice any of these signs, it's time to give 911 Restoration of Northern Michigan a call right away. Mold spores can cause harmful health effects in elderly people and young children. This nasty fungus can also destroy your precious possessions.
Never try to clean up mold by yourself. You could accidentally spread mold spores to other sections of your home or inhale them. This could make the problem even worse. Call the experts instead. 911 Restoration of Northern Michigan is always standing by.
Our licensed, bonded, and insured team of IICRC certified technicians can quickly clear out every mold spore and moisture droplet inside of your home. We use our cutting-edge equipment and technology to remove stubborn mold colonies from behind your walls.
If you need mold removal or water damage restoration services, call the experts at 911 Restoration today.
Sewage Backup Cleanup in Rogers City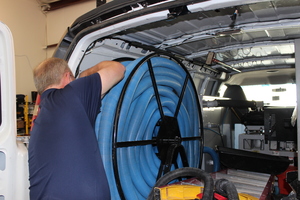 Mold isn't the only water damage disaster you need to worry about. If your sewer lines get clogged or broken, your home or retail building might suffer from a sewage backup problem.
Sewage water is dirty, disgusting, and dangerous. It is full of harmful bacteria that will make you extremely ill. Never try and attempt a sewage backup cleanup by yourself. You'll be putting your health in harm's way. Instead, call 911 Restoration of Northern Michigan to restore and repair your property.
We are available around the clock for all of your sewage cleanup needs. We offer a free inspection for property owners only in order to accurately access the damage and come up with a plan of action.
For Rogers City residents, help is just a phone call away.
Professional Fire Damage Restoration in Rogers City
911 Restoration of Northern Michigan doesn't just specialize in flood disaster services. We also offer experienced fire damage restoration to the Rogers City community.
Soot and smoke from the flames can ruin your home and belongings. Never wait to address the problem. Call 911 Restoration to help. We take a Fresh Start approach to every job we do. We understand that this is a scary and stressful situation for you and your loved ones. That's why we take a personalized approach and always offer top-notch service.
With 911 Restoration of Northern Michigan, you'll get:
A free insurance consultation

Same-day service

Complete soot and ash removal

A local company that cares
If you're ready for your Fresh Start, call 911 Restoration of Northern Michigan now. We proudly serve Rogers City and the surrounding areas. We look forward to helping you today.