Mold Removal in Alpena
An indoor mold infestation can pose a serious threat to residential and commercial property owners in Alpena. Mold spores will not just stink up your home or leave unsightly stains on your walls and ceiling. A mold outbreak can also put your building's structural integrity at risk and seriously harm your health. If you believe that your property has a mold problem, call the mold remediation specialists at 911 Restoration of Northern Michigan to help offer you a Fresh Start.
Our team of certified, bonded, and licensed technicians will arrive on-site within just 45 minutes of your first call to our offices. We'll quickly get to work and check for the presence of mold to properly diagnose and treat your building. With 24/7/365 availability, 911 Restoration of Northern Michigan is equipped to offer expert mold decontamination services day or night.
Do You Need Water Damage Restoration or Mold Decontamination? We Can Help!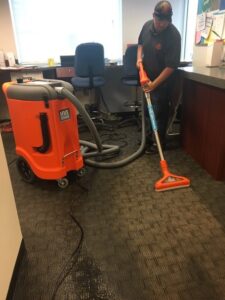 One culprit behind the mold growth in your home is water damage. Whether from a pipe burst, ceiling leak, flooded basement, or sewage backup, water damage inside of your commercial or residential building can quickly cause mold to grow in as little as 24 to 48 hours. Not only that, but water damage can destroy your beloved possessions and even your entire building.
Thankfully, 911 Restoration is here to help. Our team is equipped to handle both water damage restoration and mold removal jobs. If you have a serious sewage backup or a mold infestation in your basement, we can swiftly remediate and repair the damage to ensure your home or retail store is safe and secure once again.
If you notice any of the following signs in your building, it's time to call our experts:
A Strange Smell

: Mold and stagnant water can smell musty. You may notice the strange odor as soon as you step inside your building due to the difference in air quality. If you notice a muggy odor, it might be time to call 911 Restoration of Northern Michigan.
Bad Allergy or Asthma Symptoms

: Have your asthma or allergy symptoms become worse than usual? Are you constantly sneezing, sniffling, coughing, or gasping for air? A mold infestation can trigger these symptoms and even make them worse. It's especially critical to call a mold decontamination company if you have young children or senior citizens living at your house.
Deformed or Discolored Surfaces

: Mold colonies can reveal themselves as black, brown, gray, or green stains on your walls or ceiling. You may also notice your wallpaper bubbling or peeling away from the wall.
If your residential or commercial building is displaying any of these signs, contact the water damage remediation experts at 911 Restoration of Northern Michigan. We will quickly take care of the problem so that you can return to your home once again.
Swift and Sympathetic Sewage Backup Cleanup Services in Alpena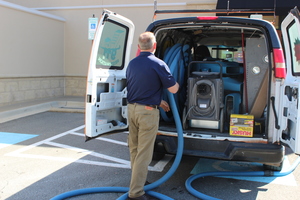 Mold isn't the only concern that property owners can face from water damage. You may also have to deal with the stinky and unsafe issue of a sewage backup. If your building is suffering from a sewage backup crisis, call the experts at 911 Restoration of Northern Michigan right now.
We have the tools and training to safely handle a sewage backup cleanup. Often, dirty sewage water can be full of deadly bacteria and germs. It's never a smart idea to try and handle the problem yourself. You could become very sick. 911 Restoration has the proper equipment and technology to clean your property and make it safe and sterile once again.
Call us today for a free visual inspection for property owners only. Your Fresh Starts is right around the bend.
Fire Damage Restoration When You Need It the Most
Water, sewage, and mold problems aren't the only issues that can negatively impact Alpena property owners. Smoke, soot, and ash from a fire can destroy your home and harm your health. If you need fire damage restoration services, call 911 Restoration of Northern Michigan today.
We are industry experts when it comes to cleaning up fire damage. With us, you'll receive a free insurance consultation, a 45-minute response time, excellent customer support, and service you can count on. We understand that the time right after a fire is stressful and scary. That's why 911 Restoration is here right away when you need us the most.
For all of your water damage restoration, mold decontamination, and fire damage restoration needs, contact 911 Restoration of Northern Michigan now. Help is a phone call away.